The Shot Glass Case
Back in college, Melisa and I began purchasing shot glasses from bars we frequented, places we visited - like other states, restaurants and theme parks. At some point we enlisted friends who traveled places. We have shot glasses from quite a number of locals - like 238, according to Melisa. Some time ago, Melisa asked me to build a case. I looked to buy a case, but was amazed how much people wanted for them. Enter William Morris; computer programmer I met at Aventis Pharmacueticals. Darn good one, too. One day, out of the blue he asks me if I am interested in having the lowest note from a pipe organ that came out of a 75 year old church. He asks me if I would be interested in the wood, since it is so old. Hmmm - yes! So, he brought it into work, and I went to work on it.
The picture below shows you the result. Note that only about 140 of our shot glasses are actually inside the case!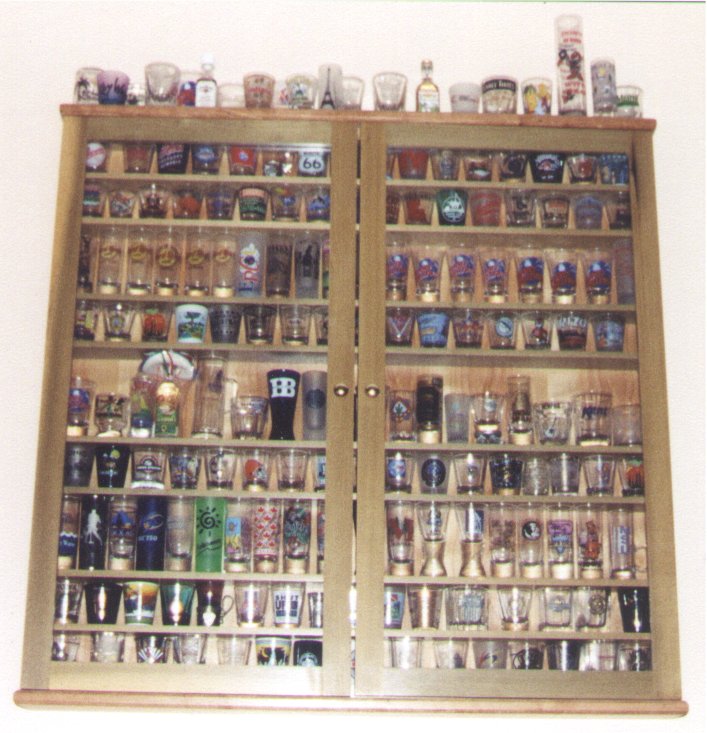 The larger than normal crack between the doors was mistake number 2 - when mortise and tendoning the doors, I cut the tendons 1/16 inch too deep, and did not realize at the time that it would make the doors slightly narrower. Well, I won't make that mistake ever again!
The light wood came from the pipe organ - the dark wood on the top and bottom came from a rotted out bar from the Alameda Plaza Hotel, which is on the Country Club Plaza in Kansas City, MO - the backing is 1/4 inch birch plywood. 1/8 inch glass fills the doors. Outer stock is all 3/4 inch, while the shelves are only 3/8. I used a brad nailer from behind to put like 5 or 6 brads into each shelf for stability. That was some lucky nailing - I will tell you that!